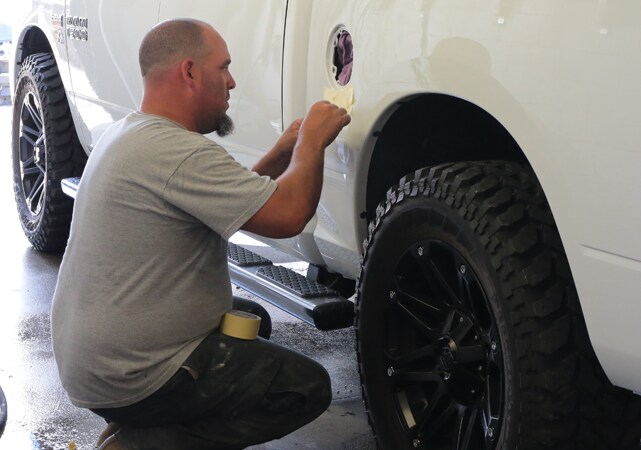 COUNT ON OUR PROS TO DO A BANG UP JOB
From simple paint refinishing to complete collision services, Oxford Dodge Collision Centre can handle every aspect of your vehicle repair including:
Free computerized estimates

Authorized Direct Repair Program facility for most major insurance companies

Service for any make or model

BASF refinish products, including ecofriendly water-based paints

State-of-the-art downdraft spray booths

I-Car trained
Oxford Dodge provides on-the-spot computerized appraisals, including Direct Repair Programs for most insurance companies. That means you can come straight here to get started on repairs
FREQUENTLY ASKED QUESTIONS
Do you only work on Dodge, Chrysler or Jeep vehicles?
No. At Oxford Dodge, we handle collision repairs on all makes and models. So please bring us your GMs, Fords, Toyotas, Hondas, BMWs, Audis and more. We repair them all so they are good as new.
Don't I have to take my car to a shop my insurance company tells me to take it?
No. Your insurance company can make a recommendation but they can't tell you where to take it. It is entirely your choice as to where you take your vehicle for collision repairs, and we'd be honoured if you choose us.
If I need to rent a car, do I have to rent a Dodge, Chrysler or Jeep from you?
No, we don't rent cars. For insurance company repair car rentals, we make arrangements with either Enterprise or Discount according to the terms specified in your policy. We take care of all the details so the car will be here for you
If I bring my car to you but don't have a rental or a ride, how will I get home?
Oxford Dodge operates a free shuttle service for customers and we would be happy to give you a ride home.
Will you be able to match the colour, especially if it isn't a Dodge, Chrysler or Jeep?
Absolutely. We use the latest technology and have access to all paint formulations from all manufacturers so we confidently offer customers our Colour Match Guarantee.
Can you arrange to have my car towed?
Yes, we can. Our supplier of choice is City Wide Towing and you can either contact them directly or we can make any towing arrangements on your behalf.
Contact 
Oxford Dodge Collision
London ON, N6H 5K6
(519) 473-1015
Hours
Monday

7:30am - 5:00pm

Tuesday

7:30am - 5:00pm

Wednesday

7:30am - 5:00pm

Thursday

7:30am - 5:00pm

Friday

7:30am - 5:00pm

Saturday

Closed

Sunday

Closed
Make an Inquiry